Harsha (Moroccan)

semolina, sugar, baking powder, butter, milk
Harcha (or Harsha) is a Moroccan pan-fried bread made from semolina. Although it looks a bit like an English muffin, it's more like cornbread in texture and taste. Recipes for harcha vary from family to family. This one is quite rich in that it uses all butter and milk—it is delicious, especially when hot from the griddle!
Created July 8, 2020 by: anika854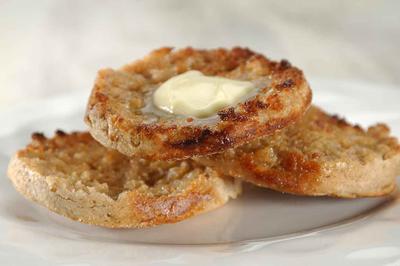 English Muffin Breakfast muffin (American) (English)
It is small, round, flat (or thin) type of yeast-leavened bread which is commonly sliced horizontally, toasted, and buttered.
Wotou Steamed Corn Bread (Chinese)
It is the shape of a hollow cone. It is a type of steamed bread made from cornmeal, butter, flour, …