Bolo Lêvedo, Sweet muffin (Azorean) (Portuguese)

yeast, butter, sugar, flour, milk
Bolo Lêvedo is a Portuguese sweet muffin typical of the Azores Islands. It is widely popular throughout the Azores as well as New England. Bolos Lêvedos are saucer size thin muffins, golden brown. It has a delicious lightly sweet taste. It is served freshly cooked and toasted with butter,
Modified July 6, 2020
Created July 4, 2020 by: itisclaudio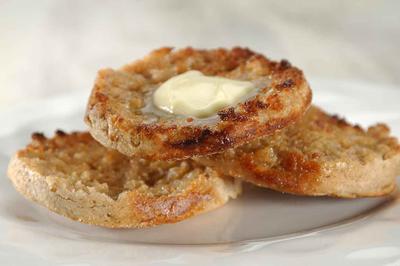 English Muffin Breakfast muffin (American) (English)
It is small, round, flat (or thin) type of yeast-leavened bread which is commonly sliced horizontally, toasted, and buttered.