Pączek (Polish)
dough, grain alcohol, sugar, icing
Paczki is a traditional Polish cuisine which is similar to doughnuts. It is deep-fried pieces of dough shaped into flattened spheres and filled with some sweet filling. It is usually covered with powdered sugar, icing, glaze or bits of dried orange zest.
Modified Nov. 17, 2020
Created Feb. 1, 2017 by: itisclaudio
Doughnuts donuts (-Worldwide-)
Type of fried dough confectionery or dessert food. The doughnut is popular in many countries and prepared in various forms …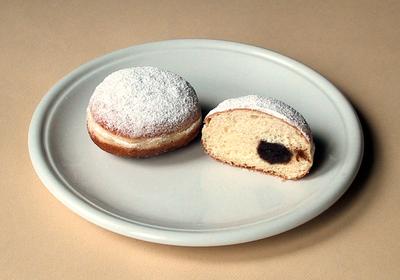 Berliner Berliner, Pfannkuchen, Kr… (German)
Berliner is a traditional German pastry similar to a doughnut with no central hole, made from sweet yeast dough fried …
Bombolonas bombolonases, Bombolone (Italian)
It is an Italian filled doughnut similar to the Berliner and is eaten as a snack food and dessert.